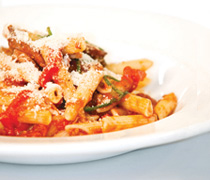 Caffé dé Medici Fine Foods
Introducing Caffé dé Medici Fine Foods est.1979!
For thirty years, Caffé dé Medici Ristorante Italiano served guests from all over the world with some of the finest Northern Italian cuisine in Vancouver. With the intimate setting off Robson, two generations of the Punzo Family delighted guests with an uncompromising dedication to service and quality. Executive Chef Aron Zipursky and his team prepared countless tempting dishes; the resulting menus incorporated regional specialties and delicate twists on old classics while maintaining a firm respect for tradition. The care and attention to preparation exemplifies the Punzo's commitment to creating a memorable dining experience.

In September 2008, Caffé dé Medici closed its Robson Street door, only to open another as a wholesaler under the name Caffe dé Medici Fine Foods Ltd. With the closure of the fine dining restaurant, Aron and his team became even more committed to continue the Caffé dé Medici tradition of a quality dining experience in any setting. Since then, Caffé dé Medici Fine Foods Ltd. has been providing customers with high quality, freshly produced food. By using only the best ingredients and no added preservatives, the kitchen creates a wide variety of delectable panini, pastas and desserts.

The evolution of Caffé dé Medici Ristorante Italiano into Caffé dé Medici Fine Foods has been a wonderful experience for us and we hope to share this experience with you. Our team's devotion and care to everything from production to presentation will be readily apparent at first sight, and confirmed at first taste! We look forward to serving you in any way we can.